Created: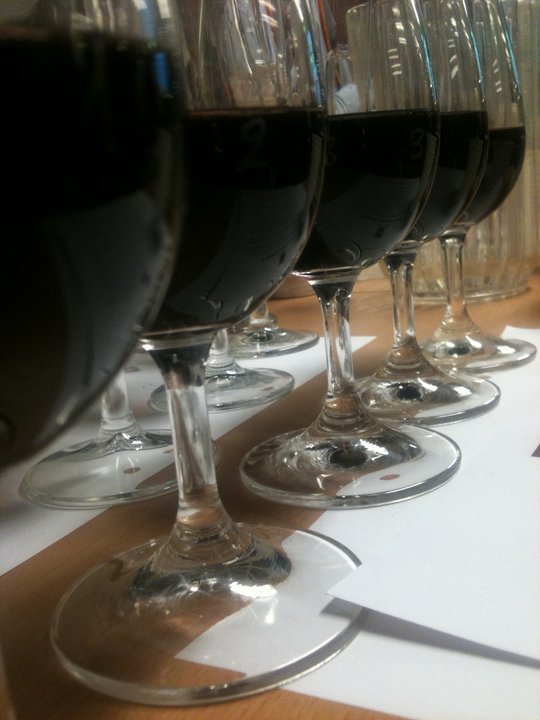 Tonight I tested five different Amarone. The presentation was at Munskänkarna in Simrishamn. The tasting was lead by Mikael Lyng and Jonas Jagusch. And the wines where:
Corte Aleardi Amarone della Valpolicella 2001 259 kr Smell was medium (for an Amarone), leather, cherries, some grass that was cut some days ago. Taste classic, somewhat alcohol is coming through, not much tannins. Not very round, it bites back (which I like). Good price performance. (+)
Grotta del Ninfeo Amarone della Valpolicella 2005 329 kr Rounder smell. Not as sharp as Corte Aleardi. Some grass and well used shoes. Basil and surprisingly a bit dill (but not as a Rioja). Taste has some hay, dry, tannins. Raisins is absolutely there, with lots of alcohol. Quite a lot of the Amarone special taste. (+)
Antolini Amarone Moropiò 2006 379 kr Smell included some honey, which I did not like. That also came back in the taste. This was because of this too sugary-sweet to me. Not the raisin sweetness that one can feel otherwise. Taste still included lots of raisins, liquorice and some sweet cherries that had been put in alcohol for a while. Like the ones you can find in Netherlands sometimes. This was not really my kind of wine, specifically not that price. (-)
Brigaldara Amarone della Valpolicella (Casa Vicie) 2005 495 kr Somewhat peppery smell. Ham, smoked meat, or rather, sausage. Basil, thyme and fried yellow onion. Taste was round, nice, but not as deep as one could expect from a wine of this class. A bit short taste, but still well balanced. The pepper is also noticable in the aftertaste. Tannins and alcohol. Specifically tannins. But I think it should be emptied now. (-)
Terre di Leone Amarone della Valpolicella 2001 649 kr Very interesting smell. Dried blueberries, dill and basil. Roasted nuts. The taste is sweet, large, very fruity (like grappa-fruity), somewhat oak-vanilla but otherwise very noticable raisins towards figs. Alcohol and some tannins although this wine is to drink now. Good stuff, although a bit special and expensive. (+)
My conclusion is that specifically the Corte Aleardi is a good buy. It is a classic Amarone with stable taste and nose. Not too expensive either, although all Amarone are expensive and too many are over priced. The Terre di Leone is something to try if you have not. I would not say it is a classic Amarone, but maybe that is how such a wine should be in the future. If I understand correctly, the Terre di Leone people have restarted the winery and tries to find the perfect formula for how to make wine.
Sometimes there is no formula, but just perfect terroir, celler, oak and love for wine making.