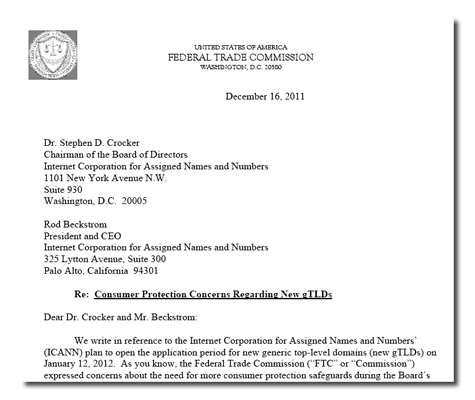 Federal Trade Commission have sent a letter to ICANN. Described at .NXT.
Whats specifically comes up, I think, is the specific issue regarding quality of data in the various whois services out there. This is not only a domain name issue, but also IP address issue of course. The problems with whois I think consists of three different categories:
People must lie to get a domain registered, because the requirements for registration of a domain is such that if the applicant was not lying, the domain would not be registered.
People must not disclose that IP addresses have changed hands because the receiving holder of the IP addresses do not fulfill whatever requirements are set on the transfer.
People do not want to be known who they are.
Of these [1] and [2] can be resolved just by recognizing the need for having an updated whois database when the policies are developed. [3] is the only tricky part, and that might be able to resolve by accepting and defining proxy registrations, but we can never get rid of this. Just like we have goal keepers for ownership of cars, houses and other things in the non-internet world. I.e. [3] is nothing new because of whois and Internet, and we sort of know how to take care of it.